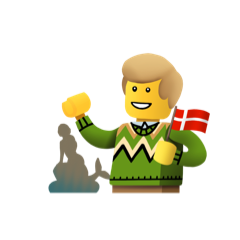 Until recently, the Danish registry used to only verify contact information for registrants with an address in Denmark. In theory foreigners could also be verified, but this hardly ever happened. Any Danish registrant wanting to by-pass the verification, just needed to select a different country when registering their domain name.
While that old way of working was absurd, the Danish registry now made a complete U-turn which in practice can make a new domain name registration under .dk impossible for foreigners living in a non-English (or Danish) speaking country.
On top of that, foreign registrants might at any time loose their existing and active .dk domain names.
DK-Hostmaster makes a risk-based assessment to decide if they'll request ID-verification from the owner or not. They do this with every new registration, but they might at any time also request you to proof your identity for existing domain names. Once they requested you to proof your contact details (including address information), they will no longer accept small rectifications to the information they have on file for you.
You have only once chance to supply the correct paperwork, before your domain name goes off-line. If you also fail to send in documents that are satisfactory to DK-Hostmaster in a second attempt, you completely loose all your .dk domain name registrations.
For foreigners, the biggest issue however is that the .dk-registry demands to receive documents either in English or Danish. For many non-English speaking countries, getting a bank statement or utility bill in English is simply impossible. While they refuse to give support related to a concrete case, .dk does (off the record) indicate that documents in an other language might also be accepted, if the verification agent decides they're sufficiently comprehensible.
This means that a document that is accepted for one verification might be refused for the next verification. Causing all .dk domain names for that owner to instantly go off-line. Even domain names that have previously been successfully verified using the exact same documents. Simply because the verification happened to be carried out by a verification agent who wasn't in the right mood to understand a document in Dutch or French or German or….
Seemingly at random verifications get refused with as only explanation "the documentation is not in English or Danish". For new registrations this means the registration fee is lost and typically the registrant will decide to move on to an other extension. For existing domain names, the effects can be devastating as e-mails stop arriving and the website becomes unreachable.
In a response to our article, DK-Hostmaster informed us that they indeed only accept documents in English or Danish language, "to ensure a consistent decision-making process". It seems that they achieved the exact opposite by this.
They also indicate that, if no English documents can be obtained, a legally certified (apostille) translation will also be accepted.
They aren't yet considering eIDAS (e-ID) to be able to complete verifications. This is currently already very successfully used by a number of European registries for ID-verification (amongst others .ee, .be, .eu and .bg). But DK-Hostmaster currently finds the system too immature.
Since the launch of the ID verification by DK-hostmaster in 2017, their system was internationally often mentioned as an example of "how not to implement ID-verification". In the lead up to NIS2 legislation, which will require some sort of verification to be carried out by all European registrars, the Danish seem to be eager to hold on to that status.