DNS Belgium (the registry behind .be, .vlaanderen and .brussels) had been working on their new "good cause" for a while: DigitalForYouth would finally launch in 2020. The goal is to give discarded laptops a second live by refurbishing them and giving them to Belgian schools and other institutions, who don't have the financials means to purchase new hardware.
The corona-crisis caused this project to take a flying start even before it was meant to take off. Schools switching to home teaching left children who didn't have their own computer out in the cold. The end of March, DigitalForYouth launched a call to donate laptops and money. They received a funding of € 200.000 from the Flemish government. But also other companies are doing their bit. Amongst others Telenet, Proximus and BNP Paribas Fortis are donating laptops and money.
At the time of writing, DigitalForYouth has already distributed 11.000 laptops and at least a couple of thousand will be delivered the coming days and weeks.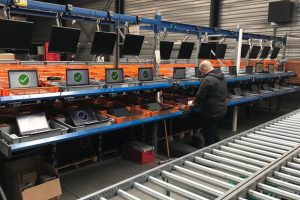 But more is better! If you have old laptops (at least Core i3, i5 or i7, and with the proper charger), dan you can donate this. For details, send an e-mail to donations@close-the-gap.org. The machines are professionally refurbished: data is wiped and the machines are cleaned, fixed (if needed) and loaded with new software.
Financial support can be giving via bank transfer to BE10 0000 0000 0404 (bank account in name of the van de King Baudouin Foundation) with the message "L83229 : Digital4Youth". Donations over € 40 can be tax deductible.