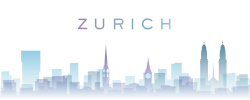 The release for .zuerich domain names has started. As of today, holders of a registered trademark which has been applied at the TMCH can register their naan under the .zuerich domain. This first phase, the so-called sunrise, will run until 29/10/2021.
On November 22, the Early Access Period (EAP) starts for a period of 10 days. From then on, anyone can register a name under .zuerich for a higher price. This price will drop slightly every day.
General Availability (GA) will start on December 2, 2021. From then on, anyone who wishes to do so can register a .zuerich name.
Keep in mind that the registry does impose certain conditions. A name under the .zuerich extension is only available to companies or public institutions in the canton of Zuerich.
At bNamed we also offer you the option to pre-register your .zuerich name for the GA.