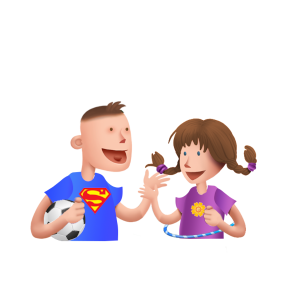 From November 29, anyone who wishes to do so can register a .kids domain name. Obviously a .kids domain name may not be used for purposes that are not considered safe for children. This means that content related to pornography, tobacco, alcohol, drugs, gambling and gross violence, among other things, is not allowed. The .kids registry monitors this strictly, but otherwise there are no restrictions to register a .kids domain name.
Children are the future, a huge cliché but a truism. An own extension for this target group was therefore inevitable. A .kids domain can be used for a lots of things.
Do you sell children's clothing? Do you organize children's camps or children's parties? Are you committed to the mental well-being of children? Do you support children's rights organizations? Can children come and play sports at your club? Do you have a toy store? Do you write children's books or make TV shows for children? Do you have any great tips for kid-friendly menus? Or are you, as a parent, just very proud of your children? All perfect reasons to register a .kids domain name.
bNamed offers you the possibility to pre-register your .kids domain name now.
Would you like to register a .kids domain name before November 29th? That is also possible. Currently the .kids domain is in the pioneer sunrise. It ends on November 29. If you wish to register a name during the pioneer domain sunrise, you must submit a concise proposal (less than 200 words) confirming that the domain will adhere to the .kids guidelines. A domain name registered during the pioneer sunrise must be actively used within 60 working days.