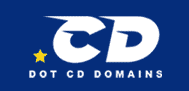 The complete .cd zone (country code for the Democratic Republic of the Congo) is off-line since at least yesterday, because the .cd-registry forgot to renew the .net domain name under which all nameservers for .cd are hosted.
The .cd-registry uses 3 nameservers which seem to be correctly located in independent locations. But all are subdomains of the same domain name scpt-network.net. And that domain name expired a couple of days ago.
To complicate things even further, it seems the domain name is registered through a reseller of eNom who doesn't have an active website.
We reached out to both the current registrar and reseller of this domain name to offer assistance with restoring the .cd zone, but are waiting for their response.
The .cd extension has had a somewhat turbulent history lately. The extension was originally run by a Congolese citizen who moved to South Africa and hosted the registry system on the network of a South African university. Because the Congolese government wanted to keep the .cd extension within Congo, in 2017 they kicked out the foreign administrator. Since that time, no new registrations or even updates were possible. Existing domain names however remained active. A message promising those services to be restored any time soon has been on the registry website for at least 4 year since.
The .cd-registry clearly isn't very good at renewing their most crucial domain name. Last year they had this exact same issue. At that time, they used scpt-network.com for their nameservers and let that one expire. The .cd zone then didn't go down completely, because they also had nameservers under a different domain name which they rented from a large African network provider. But scpt-network.com was later re-registered by a white hat hacker who tried to give it back to the .cd-registry. Read more about how Fredrik Nordber Almroth's "hijacked a top-level domain"
Update: shortly after our post, the .cd-registry renewed the domain name scpt-network.net and .cd domain names started working again.