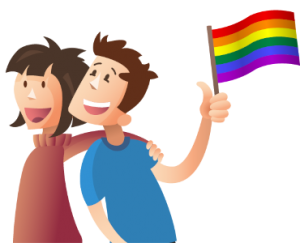 Every year thousands of people have a hard time accepting their sexual orientation, let alone making it known to the outside world. Via the .gay extension you already get the chance to do your coming-out in an original way. After all, everyone wants to be who he / she is. Without prejudice, without comment.
A .gay domain name makes a clear statement in that regard. It shows the entire online community who you are and that you are rightly proud of it. The .gay extension is also the domain of choice for the LBTBQ + community to show and express themselves online.
The .gay extension is also interesting for companies. Firstly, as a company, you make a strong statement when you register your .gay name. You show that your company supports the LGBTQ+ community. Secondly, you also support charities with it! 20% of the proceeds from each .gay registration is donated by the registry to charities that support the LGBTQ+ community. GLAAD and CenterLink stand up for the LGBTQ+ community and fight for more rights for this community.
You can register your .gay domain name quickly and easily via bNamed.net. In addition, you now enjoy a nice promotional price for your .gay name.
The ideal moment to register your .gay name, make a clear statement and support good causes.