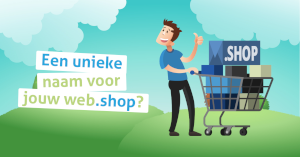 Online shopping, who doesn't do it these days? Whatever you need, there's probably a webshop offering it. Toys, clothing, books, games, electronics, films, shoes, care products,… the list is endless. Which of course results in a multitude of web shops that offer numerous products.
So obviously it's important to make sure your webshop is found online. And a .shop domain can put you on the right track there.
Short, clear, easy to remember and yet slightly different, the .shop domain offers it all. Moreover, you can register your .shop domain quickly and easily via bNamed. And, you now also enjoy a nice promotional price for your .shop domain name.
An ideal time to register your .shop name and ensure that your webshop is found online.