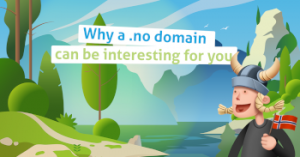 You're not located in Norway but you're thinking about entering the Norwegian market with your product? Or you wish to attract Norwegian customers? Keep reading and we'll tell you about it.
Win win with your .no: Attract more clients and get a higher search engine score
First of all, you'll attract more Norwegian clients with a .no domain name. Our experience has shown us that people are very chauvinistic when it comes to domain names. Norwegian people expect a .no domain name, when they surf to a website they almost automatically type .no at the end, it's that simple. And honestly, it would be a shame to ran out on all those potential customers, simply because you didn't register a .no domain name.
Secondly, your Norwegian clients will remember you more easily. If you register a .no domain name, you'll make your (potential) clients feel at home. A .no domain is something they're familiar with and what they unconsciously expect. So you anticipate on their chauvinistic feeling and
Last but not least, Google considers websites with a .no name more relevant in Norway, which makes them appear higher in the search results.
So to sum up: with a .no domain name, you'll attract more Norwegian clients, they'll remember you and you'll get a higher score in the search engines, talking about a win win situation.
No local address? No problem!
Often registering a .no domain name seems impossible since such registrations are reserved for Norwegian companies and individuals. Enter bNamed!
If you haven't got a local presence in Norway, you can simply ours, which is a rather exceptional service we offer! So with bNamed an impossible registration becomes possible. Registering a .no domain name can be done simply, quickly and easily via our website:
1) You can easily check the availability of the .no domain name you wish to register via our website www.bnamed.net
2) When the domain name is available you can create an account with us and start the registration process.
3) During this process all you need to do is select the option of using our local presence. But next to that, we make it just as easy as registering any other domain name.
4) You can also choose who needs to become the owner, you can create mailboxes if you wish to do so,…
5) One more thing that's different for .no: to complete the registration, Norid (.no-registry) requires you confirm to agree to their registration rules for every request.
And that's it! Once this has been done, you can start using your own .no domain name!