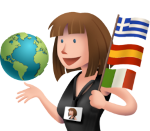 Traveling, on holiday abroad, dreaming away on pearly white beaches or an adventure in the mountains, that already been a while ago. And many people crave it more than ever. Discovering other cultures, away from everything and everyone, is guaranteed to be on many people's to do list.
Let people dream away now with your most amazing travel stories. Or do you offer them the opportunity to book their dream trip through you? Then a .travel domain name is perfect for you. 
Have you got your own bed and breakfast? Do you offer day trips in your own country? Do you know the most beautiful places in the Ardennes or by the sea? A kids-proof walk or exploring your own city? Vacation in your own country, a so called staycation, has never been so popular. With a .travel name it is already clear that everyone can contact you.
It is the ideal time to register your .travel name. Moreover, you can now enjoy a nice promo at bNamed for every new .travel registration. What are you waiting for? Register your .travel domain name and start dreaming!