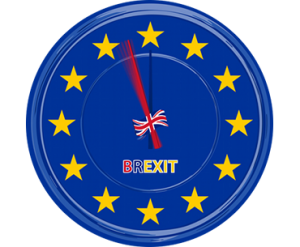 Deal or no deal, on January 1st 2021 the United Kingdom (UK) will leave the European Union. This will also affect UK firms and individuals for certain domain name registrations. After all, some registries require that you have an address within the European Union before you can register a domain name. So what from January 1st 2021 onwards?
.eu: EURid (the .eu registry) previously rolled out a whole timetable regarding .eu and Brexit. They emailed all UK owners of a .eu name at the beginning of October, asking them to change their address to a European address before January 1st 2021. The email will be sent again on December 21st. If no action is taken, EURid will take offline the .eu names to which an address in the UK is linked on January 1st 2021. The respective owners will then have another year to rectify the situation. If they decide not to, their name in question will become available for registration again on January 1st, 2022.
.fr and .bg: AFNIC (the French registry) and register.bg (the Bulgarian registry) have decided that until December 31, 2020, British companies and individuals can register a .fr or .bg name without any problems. This will no longer be possible from  January 1st 2021. However, both registries allow all .fr and .bg names with a UK owner that were registered before January 1st, 2021, to keep this UK owner.

.hr: The Croatian registry has changed its rules so that nothing will change from January 1st, 2021. You had to have an address within the European Union to register a .hr name. Now you can also have an address in the UK or Northern Ireland.
.it: For now, the Italian registry has not yet made a final decision on what to do with applications for .it names by UK companies or individuals. As long as there is no final decision, however, everything will remain the same. This means that UK citizens and businesses can register a .it name for the time being without any problems.

Via bNamed you can also register your name under these extensions without any problems in 2021 if you are located in the UK. After all, you can use our local presence.