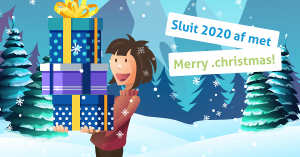 Have you ever thought about ending 2020 with a festive touch? Or to ensure that your webshop stands out during this crazy period of online shopping? Or to offer your customers that little bit of extra warmth and cosiness? All this can be done quickly and easily with your own .christmas domain name.
There has never been more online shopping than in 2020. Being found online has never been more important. And as the end of 2020 approaches, online sales will peak again anyway, no matter what!
Therefore put your webshop in the spotlight  your own .christmas domain name. Stand out from the crowd, be just that little bit different and give your website and products an extra end-of-year boost.
Is a .christmas domain name something for you to close 2020 with? You can register your .christmas domain name without any problems via bNamed. We are happy to help you.