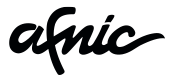 Afnic (the .fr registry) is celebrating because the .fr extension blows out 34 candles.
A lot has changed since the start of this extension, which only increased the popularity of the .fr domain.
In September 2020, approximately 3.6 million .fr domain names were registered worldwide. Until the end of the 90's, the .fr domain was only available to French companies. Since 2006, however, private individuals have also been able to register their desired name under .fr, which has led to an enormous boost in the number of registrations.
Since Afnic also dropped the requirement of local presence, so that you no longer needed a local address to register a .fr name, the number of .fr registrations increased even further.
The .fr extension is doing particularly well in France itself, for example, 91% of French companies believe that a .fr name conveys confidence and 52% of French companies prefer a .fr name to a .com.