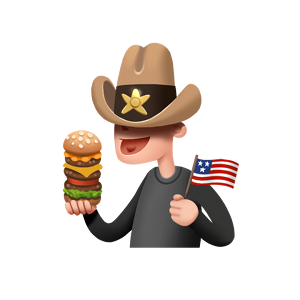 The .us domain is the extension for the United States but offers so much more possibilities. Of course it's the perfect extension to make sure everyone in the USA is aware of what you're doing. But what about the other options?
You've got a great idea? A fantastic story to tell? You're looking for people to hop on board of your project? Then a .us domain name could be exactly what you're looking for. Make sure everyone gets as enthusiastic as you about your project by explaining them what you're doing via your own .us website!
Family and friends (the family you choose) are always there for you. Fun, laughter, joy, but also during the bad times. Make sure to make a great memory of all those precious moments in good times and bad via your .us domain name. Like that, everyone will have easy access to all those beautiful memories and you can easily keep in touch!
You've graduated and you want to make sure not to loose your classmates out of sight? Just register a .us domain name for your class! Post holiday stories, pictures of your new school, college or university and remain close to the people you've spent the last few years with.
You've got a great but very specific hobby? And you're looking for someone with the same interests? Well a .us domain name could already be a good start.
As you can see there are plenty of reasons to register .us domain name. bNamed offers you the option to register your .us domain name quickly and easily for a great promotional price!