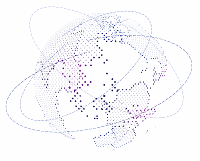 At first sight, webforwarding is only a small cog in the large machine that keeps your website online. It seems insignificant, but for many users, it is a very crucial part in order to make sure the website can be reached.
We have always valued the importance of webforwarding and are continuously improving our forwarding service. As one of the first (and still very few), we offered the ability to activate https on your webforwarding (and this free of charge). We are now moving our webforwarding service to an anycast system.
The anycast set-up will make sure that visitors from around the globe will get a response from the forwarding server nearest to them. Which means speedier redirection, certainly for visitors from outside of Europe. And on the off chance one of our forwarding servers would go off-line, all traffic is automatically redirected to one of the other servers. So all requests will keep being served.