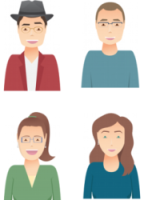 The bNamed team, who are they? What do they do?   You read our emails, you hear our voices on the phone, perhaps we have already met at a meeting or a trade show. We are no strangers to you, but maybe you want to get to know us a bit better?
Do you have pressing questions about what drives us, what we secretly like or with which drink you can do us a favour (just a non-binding tip). Or maybe you're just curious about the person behind the mail? Or would you like to be able to put a face on the voice on the other side of the line?
This can be done! Go to our contact page, click on our photo and find out what there's to know about us.