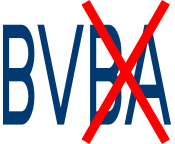 The most common company type in Belgium is "BVBA" (which is similar to "LTD"). Due to changes in the Belgian law, this has  now officially become known as "BV". Not many seem to have noticed and most companies still refer to themselves as "BVBA". But especially for companies who included their company type in their website address, this could be an important name change.
At least one company however seems to have noticed: The last couple of weeks, a company called "Web Wolves" started looking for companies who use the company type "BVBA" in their domain name, but who hadn't registered the new version with "BV" in the name yet. Once they find a susceptible victim, they register the new name and subsequently contact the rightful owner proposing to sell the domain name at an inflated price.
If you receive such an offer, don't be fooled by it. The .be regulations include very good protection against anybody unrightfully registering your company name under .be. Since in all of these cases, the domain name registered exactly resembles the infringed company name, you are well protected. And enforcing your rights under .be comes at a cost to the party infringing on them. They can be charged up to € 1750 per domain name they have unrightfully registered, if dispute resolution is started for that name.