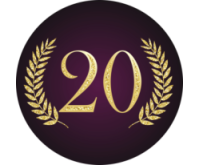 Partytime! We exist 20 years. Yes, you're reading it correctly, 20 years.  So we bundled 20 little facts about us to share with you. How well do you know us after 20 years? And who knows, maybe you'll get to know us even better after reading this.

Did you know:
1) we were the first Belgian ICANN accredited registrar?
2) our fantastic interface is made by Stefan and not by an external company?
3) we offer local presence in more than 40 countries including Norway so that seemingly impossible registrations still become possible?
4) you can always recognize Bart by his hat and 2 different shoes?
5) do we offer cordial, first line support and are praised for this by our customers?
6) not only our logo and website got a makeover but we are also working hard on new web texts and a new workplace?
7) we offer standard support in 3 languages ​​(English, Dutch and French) but that there is also quite a bit of Spanish, German and Lithuanian spoken here?
8) we also continue to offer support via e-mail after 5 pm and during the weekend?
9) we not only provide a "fail-over" for our servers, but also for our coffee maker?
10) you can enjoy our name server diversification for "extreme uptime" with a simple click of the button?
11) we have been directly registered as registrar with more than 120 registries?
12) Lieve and Bart are a couple?
13) we really offer every possible extension, there are more than 1,200!
14) Vanessa has been working here for 5 years now?
15) we also offer SSL certificates?
16) chocolates and cookies are gone in no time here?
17) we also offer a "domain buy service" for taking over existing domain names?
18) there is a lot of laughter here?
19) you can also pay your invoices via direct debit?
20) we've enjoyed the last 20 years and are we ready for the next 20!